Residential & Commercial
Roof Replacement Services
For All Roofs
Have you noticed shingles that are cracked or curled? Is your tile roof aging and ready to be replaced? From minor repairs to full roof replacement, when you want a residential roofing contractor to help with your roof, you can always count on the trusted professionals at Treasure Valley Roofing.
We offer a complete range of residential roofing solutions including asphalt shingles, tile, metal, and commercial TPO.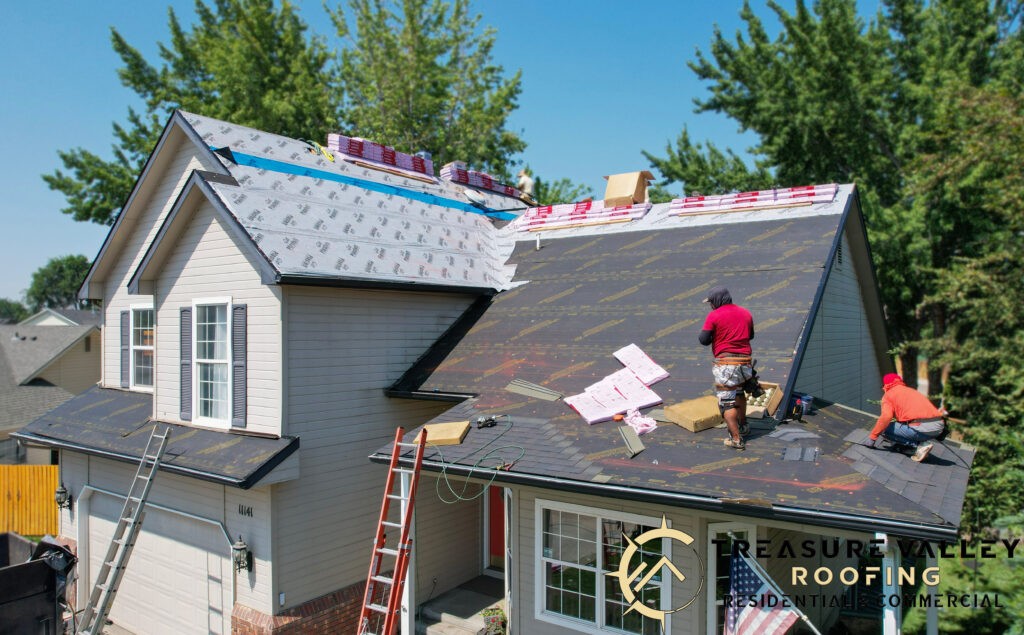 Trusted Roofing Contractors
Signs You need to Replace Your Roof
Asphalt Shingles Peel Away

01

This leaves bare roof exposed, and causes foundation damage under the shingles.

Metal Shingles Curling

02

Exposure to underneath the shingles will lead to needing a roof replacement.

Leaks Around Valleys or Chimneys

03

Leaks getting under the lament and inside your home interior causes more damage than just to your roof.

Layers of Debris

04

Clogged gutters and layers of debris will create weakness in roofs, and can lead to more than simple repairs.

Contact Us
Contact Treasure Valley Roofing

Whether residential or commercial, new construction or an 1800's Victorian, we're prepared to help with any and all of your roofing needs. Call today to speak with a professional and learn why our customers love us so much!
Testimonials for Treasure Valley Roofing
We had these guys come out and give our roof a once over to see if it needed to be replaced. Matt came out and looked over the roof and said he wouldn't replace it and didn't find anything wrong with it. This was after we had a company earlier in the day come out and basically tell us our roof was falling off. Not only did he take the time to look our roof over, he explained to us what to look for and why our roof was in good shape. Its seldom i can say I am 100% satisfied with a work that I have hired done. But in this case, I must put a seal of excellence, and give treasure valley roofing an A+ for the roofing installation!
Had a previous company stop by and give me a roof inspection. Some green and black logo. They seemed super shady so I called Treasure Valley Roofing based on their reviews to come verify. Boy am I glad I did! I went on the roof with the inspector and he showed me wind damage but also noticed some "new" damage the previous roofer must have done (it was extremely noticeable and fresh). Needless to say I feel more educated on roofs and learned a great deal from this insurance process. They installed a beautiful roof and clean up was immaculate. 10/10 for Treasure Valley Roofing, I'll be recommending my friends.